Got Plastic! Get the Lifetime FCU Debit Card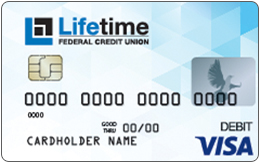 No more waiting in line to get cash or holding up the checkout lane to write a check.
It's safe, secure and widely accepted.
Enhanced Security (EMV) Chip Card
Verified by Visa free online shopping protection Activate Now
55,000 Surcharge-Free ATM Network Locations. View ATM Locations
Unlimited Surcharge-Free ATMs at all Lifetime ATMs View ATM Locations
Worldwide Acceptance at Millions of Merchants
Real Time Fraud Monitoring / We may notify you if unusual spending patterns are detected
Zero-Liability Protection**
Vacation Monitoring
PIN or Signature *daily limits apply
View posted and pending charges online in real time
Check your balance within seconds with our Mobile app "Instant Balance" feature
To report a lost or stolen Debit/ATM card: 1-833-221-8677
To file a dispute or report fraudulent activity on your Debit/ATM card: 1-833-221-8678
*See Regulation EFT Disclosure and MAA/RegCC/Reg E Booklet for card limits and details
** Lifetime FCU reimburses you for any unauthorized card transaction when reported promptly. Certain limitations apply.